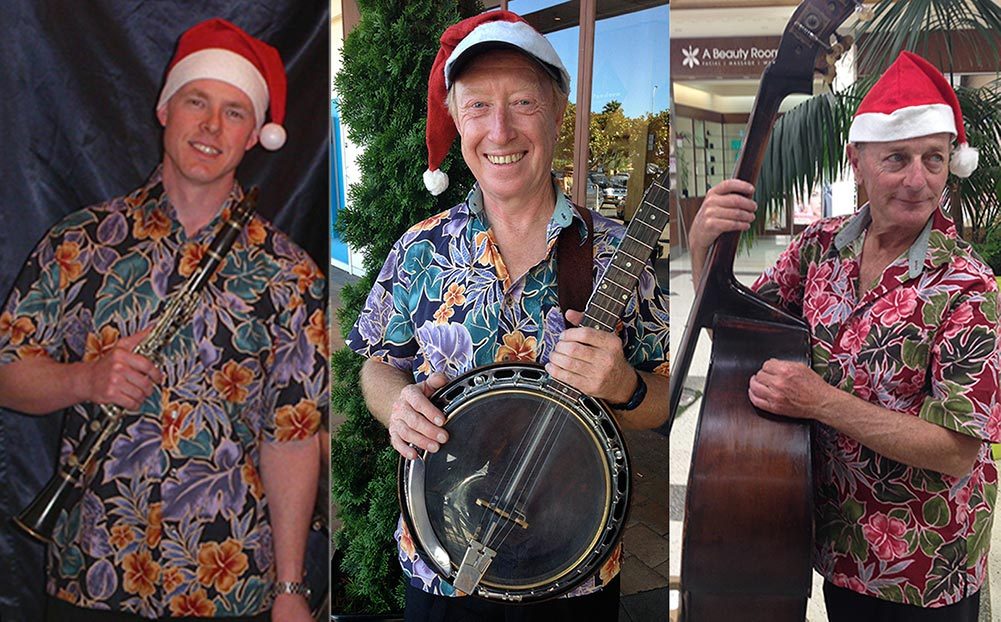 The Jazz Santas are a great choice for your Christmas function; classy, dynamic, fun Christmas music for people of all ages.
All the Christmas favourites done in a Dixieland Jazz style – great for shopping malls, old folks homes, Christmas promotions, parades, birthdays and Christmas parties.
The authentic sounds of the Golden Era of Jazz plus Rudolph the Red Nosed Reindeer! You ain't never heard Jingle Bells swing like this before!
Let these guys entertain your customers with jazzy Christmas favourites – people of all ages from babies and kids to senior citizens will enjoy the sound.
The Jazz Santas have a very happy Christmas Jazz sound featuring the Clarinet, Banjo & Vocals plus Double Bass. This makes for a really fun and interesting sound. It's also visually exciting as well.
Ideal for: Christmas time entertainment for shopping mall, old folks home, staff party, mid year Xmas events
Don't just listen to us, listen to our customers…
Hi Bill,
We really enjoyed the entertainment provided by the Jazz Santas. We had very positive feedback from the residents and family.
Kind regards
Helen – Manager Auckland Rest Home

Hi Bill
If you would be so kind and pass my thank you on to the rest of The Jazz Santas. My guests loved you guys, the music was lovely, got us into the spirit of Christmas and also brought some memories back with some of the oldies!
Love it so many compliments – you were a hit! Keep it up!
Thank you
Cornelia

Hi there
The Jazz Santas were great – thanks! Hope you all have a wonderful xmas and new year.
Kind Regards
Raewyn Abbot
Mt Riley Wines'

Hi Bill
Yes, we had a splendid day. The weather turned out to be better than I could ever had imagined, the parade went to plan and your band did a great job. Well done, we couldn't have done it without you!
Thanks very much
Jan Pitout
Street Event

Hi Bill
Pass on my thanks to the rest of the band, you were fantastic.
Especially with playing on as the wind was ripping through the marque!
Thanks again
Tracy – McDonalds
Listen to some samples
Click here to view our basic song list